Memory Lane Antique Mall
Memory Lane Antique Mall covers 5,000 square feet and is filled with something for everyone.
From the 1790s through the 1970s we handle it all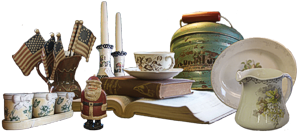 Furniture
Porcelain
Artwork
Costume Jewelry
Military Items
Photographs
Silver
Native American Items
Vintage Apparel
Midcentury Furnishings
It's an eclectic mix of everything you could ever need to decorate a house, give as a gift, or bring a smile to your face. We pride ourselves in our diverse stock and the knowledge we've acquired over the four decades that we've been in business. Whether you're an established collector or just beginning we'll have a treasure for you!
"
When I needed help with my father's estate, Claycomb Appraisals was courteous, quick, and understanding.
"
- Paula C.
Proud Member of: